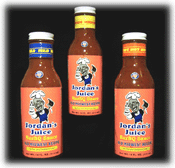 Welcome to the Jordan's Juice BarBQ Sauce Website. Jordan's Juice BarBQ Sauce is a unique blend of sweet and sour. The flavor is very broad and enhances all types of meats, including wild game and fish. Jordan's Juice makes a great dip! Use it on potatoes, as a marinade or baste with it. You can use Jordan's Juice without covering up the natural taste of your foods. Cooking with Jordan's Juice makes a meal simple and easy, it will soon become a family favorite. Jordan's Juice is available in Mild, Medium and Hot! All Jordan's Juice BarBQ Sauces are FAT FREE & CHOLESTEROL FREE!! Jordan's Juice contains no M.S.G!

ALL PRODUCTS HAVE A 100% MONEY BACK GUARANTEE!

What are people saying about Jordan's Juice BarBQ Sauce?

Earl Williams-Emporia, KS "All I have to say is WOW ! The sauce can go on Fish, Chicken, Pork and Beef. It is very good, and the shipment was very quick! Thanks for sending Sauce all the way to Kansas. I will be ordering more!

Pam Engel-Edwardsville, IL "We just got our Shipment of BBQ sauces... Very Tasty... We wanted to try all three flavors so My son had the hot, I had the medium and my husband had the mild. All of them were VERY good with a bold taste. The hot doesn't really hit you till it gets to the back of your throat but isn't so hot that you cant enjoy it. The medium I liked the most, it had the best of both worlds a little kick to it but also mild enough. The mild is also very good. You won't be displeased with this product."

Joe Pena-Kalispell, MT "It's really good I have never tasted anything like it!"

Patrick Lane-Wichita, KS "My cooking skills (or lack thereof) are legendary, so I am blown away when people that we have had over rave over my grilling (that's a new one for me). Of course, I tell them it's all because of Jordan's Juice BarBQ Sauce! Chicken, pork, or beef, it just enhances the flavor of the meat instead of masking it, as most sauces I have tried seem to do. This is something really special. GEA (Good Eating Always)!!!"

Take a look at our Sauces below, decide which one(s) you would like and feel secure about your shopping experience with us!

Come back often and be sure to tell a friend!